ROBERT NICLAS was inspired early in his life by his grandmother who taught piano and created sculptures and by his father, who's work took the family to the Middle East, Europe and the Western States.
ROBERT NICLAS' passion for artisan woodworking started when he was quite young. He was inspired by many artists and craftsmen including his grandmother who taught piano and created sculptures. His father was also an artist and photographer. Due to his father being employed with an oil company his family moved often, exposing ROBERT to a great variety of art forms. Moving often took him to the Middle East, Europe, and around the Western States. After school he was in the Navy where he traveled around the Far East. Wherever he was, he enjoyed looking at the woodworking that others created.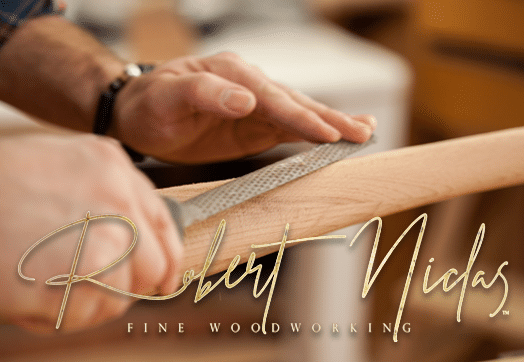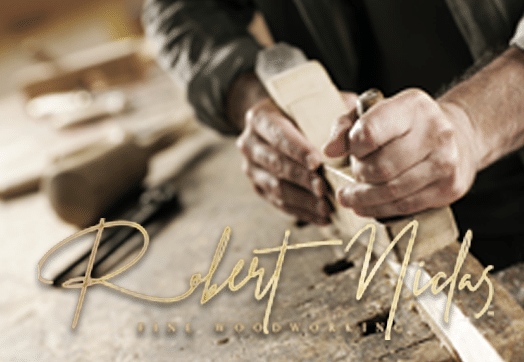 ROBERT met his wife who is from New Zealand while they were both living in Sweden. After he and his wife were married they moved to New Zealand where ROBERT did an apprenticeship in furniture making. He worked in all fields of wood work, building and renovating houses, making furniture, wood carving and boat building. Their first four children were born in New Zealand and the last two here in the States.
For the past 30 years ROBERT NICLAS has been working on luxury yachts, making custom designed interiors and furniture, and this experience transfers to many of the pieces he makes in his own shop. ROBERT derives great joy from creating canoes, kayaks and rowboats as well. His carvings reflect what he sees and often he will get a vision of a completed carving when he least expects it. ROBERT has learned to record his inspirations of art in a journal until he finds the perfect piece of wood.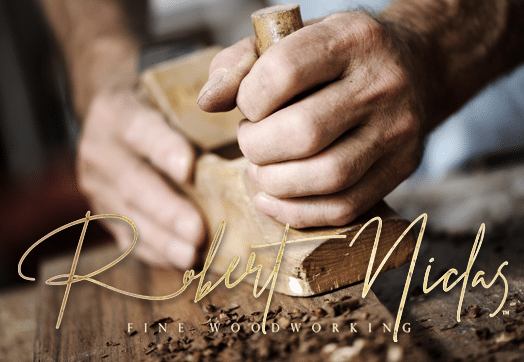 Years ago, our family went to a violin Christmas concert.  The violinist was Geoffrey Castle, who plays a 6 string electric violin originally made by Tucker Barrett.  During the concert our youngest daughter asked me if I would make her a 6 string electric violin just like Geoffrey Castle was playing.  I had to do a lot of research and during that time, I called Tucker Barrett and asked him if I could copy his violin.  He told me he gleaned things from others as he put it, and he was happy to let me copy his violin, as he no longer makes them.  Geoffrey Castle let me look at his violin several times, and in the end the 6 string electric violin was completed for our youngest daughter, and also one for our daughter in law.
"Robbie has a talent for finding the absolute best exotic woods from around the globe, which along with his artistry makes every item a collector piece."
Robbie has completed numerous woodworking/furniture projects for the Carlson Family.  Most of the projects utilized lumber from the family farm.  The projects included Robbie's signature two-legged coffee table, large oak slab table with matching benches, four-carved oak headboards, five-oak slab table/desk tops and more.  Each project benefited from Robbie's unmatched woodworking skill, artistic eye, dedication to perfection and wonderfully flexible and accommodating personality.  I look forward to the next woodworking project with Robbie.
Robbie has done several woodworking projects for me over the past 12 years and I recommend Robbie without reservation for his heirloom quality woodworking artistry. I am a woodworker, but next to Robbie's artistry in wood I realize I am a wood butcher! Robbie can take the most complex tasks, like the joints in compound curves on the doves in these pictures, and execute them perfectly.
Read More
Kent Johnson...continued.
That takes a level of talent that few woodworkers possess. That combined with the fact that he is a joy to work with makes any project with Robbie a rewarding adventure! We proudly display his artistry on this beautiful kayak above our kitchen cabinets. We just couldn't come to terms with the chance of damage to this work of art on the rocky Washington beaches. Notice the work on the crotch mahogany veneer on the kayak. I have worked with crotch mahogany, and I know for a fact that executing perfection with the book-matching of the veneer takes talent way beyond my skill level! Also note the display stands that Robbie custom configured for displaying the kayak - beautifully done and very functional! Robbie also has a talent for finding the absolute best exotic woods from around the globe, which along with his artistry makes every item a collector piece.
I've worked with Robbie for well over 20 years building luxury yachts and have seen the quality of his work first hand. His work ethic and talent are absolutely remarkable and as a person, he is truly exceptional.  Robbie has a gift!  On the personal side, my wife and I have also purchased several pieces of art from Robbie and they are incredible.  As you look at them, you're amazed at every little detail captured in each of his carvings. Anyone looking for a custom piece will be blown away by his talent.
Location
Sequim, Washington
Get Our Digital App
Text: NICLAS   To: 64600